Anyone watching? I used to think she was SO funny and showed a realistic side of motherhood. Except that she has an unlimited budget to shop and has a cleaning service (she goes to all sorts of lengths to make it look like she vacuums and cleans constantly. In reality she's just keeping things acceptable until the maid shows up
). lol Her husband is a Dr and he won't allow his image on her vlogs but she is constantly leaving parts of his face and even full on frontal views.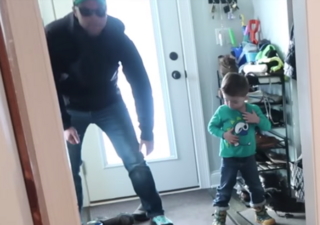 LOL Of course it took about 5 minutes to find him online :/
She's always been scaring her oldest kid (beau) and making him cry...then laughing at him. The poor kid is going to have PTSD & I hope he kicks her in the overused crotch soon to get back at her!!! Recently she has really upped her asshole game and plays mental games with Beau. Like sitting on the sofa and telling him she had bad news *you could see the kid start to crumble after that* and tell him they didn't get a house they had put an offer on. I mean, the kid is 4 and could not give a raging crap about the house. She gives off this sad vibe and the kid loses his shit and....it's not cool, and it does NOT make her a funny mom. The first few times I watched her vlogs and saw her do this I sort of chuckled but it has gotten totally unacceptable. Yikes. Here is the link to todays vlog and her making the kid cry. F*cking brutal.
[youtube]
[/youtube]